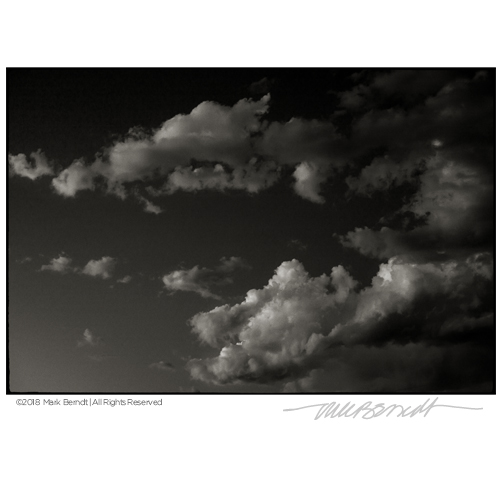 Everyone posted the rainbow last night.
I saw the clouds.
Hmmmmm… I can't really account for that.
But just so we're clear – I am well aware of the fact that photographically this required no real skill. Photographs of beautiful meteorological phenomenon are 'f/8 and be there' in its purest form (that's why the iPhone is so perfect for them). And especially sunsets and skies in New Mexico.
No plugins, no filters, no darkroom tricks. Humidity built 100-storey structures in the sky. The sun made highlights and shadows. The wind arranged them beautifully.
This is an observation I share, not an artwork I made. Total artistic effort: see it and don't screw it up.
I'm sharing this: "Look, that's beautiful!"
Just so we're clear.
(Well… I did shoot at f/4).
__________
M | 50
©2017 Mark Berndt | All Rights Reserved