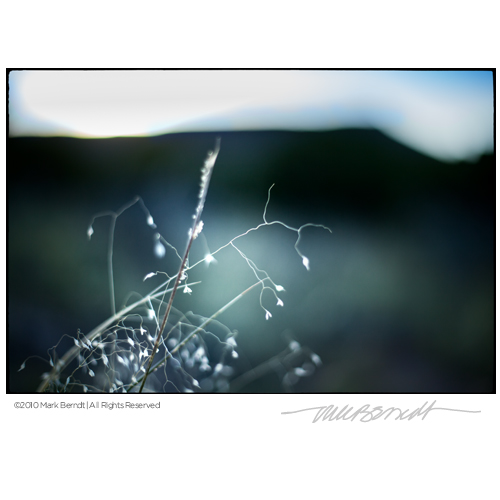 Revisiting old digital files, old hard drives of images, previous versions of RAW processing, is just the same as looking through old contact sheets. And the same rules of relative image importance apply. When you edit and select and finish the images that are meaningful at the time of the shoot, they reflect a current, specific, and valid state-of-mind. But later review can reveal a shift in that state-of-mind, where age, experience, and situation sees importance in different images. Later they are meaningful in new and, let's say, more profound ways.
I found the image above in the 'selects' from a shoot in 2010 (but not in the 'final files') – from a visit Pilar and I made to her Mom's house in Embudo (my first time there – and early in our relationship), wandering, photographing, talking, exploring, relaxing, experiencing, connecting – and although I obviously experienced this blue-glow of dusk and found it compelled me to make this photograph, I finished other images from that trip that held significance I understood at the time.
Having re-discovering and posted this image yesterday, I started work on a poem at breakfast this morning at my most inspiring coffeehouse/restaurant – Room 39. The picture prompted the recollection and poem, not the memory itself. And in that I find the value of photography.
I Visit This Image That's Six Years Old
I visit this image that's 6 years old
to remember the day that I first said my hello
to the high desert dusk
and savored the piñon
and feasted on morsels of lingering sun
spun in the teardrops of the Indian ricegrass
a reverse silhouette against a mountain, and sky
that night – no orange ball
no fiery star extinguished on exit
but a soft slate blue gauze
tipped with cool greens and shadow
to quiet my eye
at the onset of night
more than a mile high
like a desert dessert
this last flavor
lingered
as we slipped
wrapped in silence
to sleep.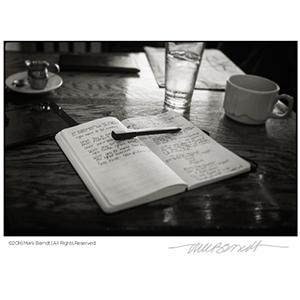 ©2016 Mark Berndt | All Rights Reserved