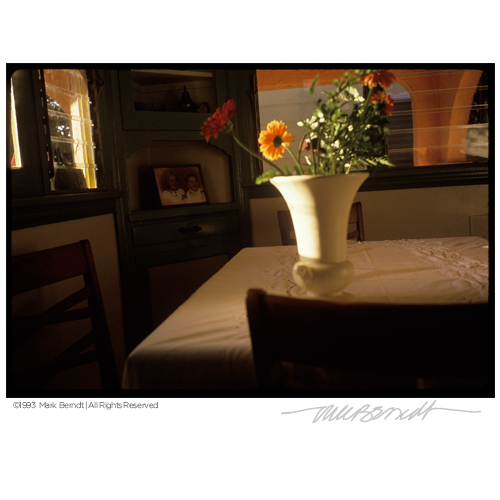 I remember stopping by Deb's house on Stanley in the late afternoon, sometime in the early 90's. She wasn't home, but I made 2 photographs from outside as the sun did that warm hard cut straight into the front of her house while I waited for her to answer the bell.
The house was quiet. I don't even remember the dogs barking, so they were probably riding around with her in that big black Mercedes, and the house seemed both vulnerable and welcoming to a photographic predator like myself.
I saw this scene through a side window of the breakfast room by the front door, and I loved what the light did to the flowers. I know the camera was the M6, the film was Kodachrome, and although I usually had the 35mm Summicron on it, this looks a bit more like the 50, wide open, what with the flowers left intentionally soft and the focus thrown to that photograph of her in the shadows of the far corner cabinet.
This is magical LA light. I'd know it without the red/yellow boost from K64 1/2-stop under, the ubiquitous '40's-era louvered glass windows, and even without her impeccable style.
©2016 Mark Berndt | All Rights Reserved