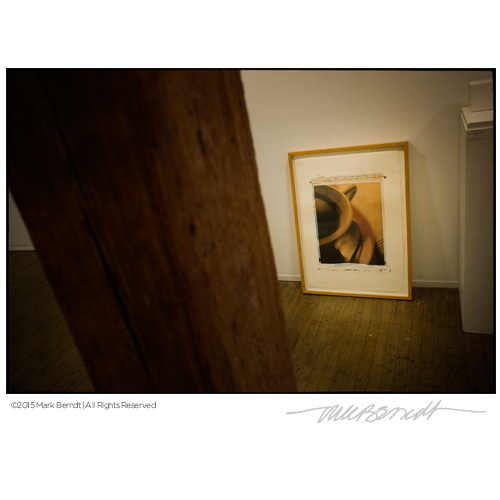 Well, there's print #3/15 of "Honest Cup O' Joe" (titled for obvious reasons when you see it up close) waiting for a nail at KC Artists Coalition's PUBLIC HANGING next Friday night. But that designation – #3/15  – doesn't tell the whole story.
This is actually #3 of the first 3 prints in the edition, rare and irreplaceable 20-year-old vintage Iris prints made by R Mac Holbert at Nash Editions in Manhattan Beach, CA in 1995 from my original 4×5″ Polaroid transfer. I had made the original with a Horseman 450-LX, a Nikkor 210mm lens and Polaroid Type 59 film on Arches paper in 1993, so we printed these prints on uncoated Arches as well (this was before coated digital papers) to bring the process full-circle.
Print #1 is on my living room wall, #2 sold over a decade ago, and this one, with the Nash Editions "chop" in the lower left corner, will be available to purchase at KCAC at 201 Wyandotte in the River Market next Friday night, November 20, 2015  from 6-9pm – and of course, if it doesn't sell then it's still available from me. (Remember, the purpose of the show is to SELL work).
Delivering this print today brought back all sorts of memories of the pioneering days of digital printmaking – Photoshop 3, my first MacIntosh (a Power Mac 8500 with 32mb RAM and 2gb hard drive), my state-of-the-art Agfa Arcus II scanner and my feeble Epson Stylus XL printer. Jonathan Reff, my friend and Certified Apple Reseller at the time, helped me navigate the scary waters from PC to Mac and with his expertise built me my first digital darkroom. Those early days were still about shooting film, then scanning and processing and the desire to make prints – it's always been about prints. The little Epson was no match for the courageous dis- and re-mantling that Mac and Graham were doing to those Iris printers, and Mac Holbert spent generous amounts of time to helping me understand scanning resolutions, color management and digital printmaking so that I could make files he could work with – and then made these beautiful prints. Thanks Mac.
I did several projects with Mac at Nash. They took a classic printmaking approach to the art, and were meticulous about their work. That meant it took several weeks to see a first proof, especially if they were doing the scanning, and about as long to see a final print – especially if they were busy – which they always were.
I'd ride down on my motorcycle to approve and sign the BAT proofs and start the printing phase. When the prints were ready I'd drive down in the car so I could bring my prints home. We'd compute a final paper size, they would hand-tear the edges and "chop" the print, I'd sign, and then they'd sleeve the final prints and put them into tubes for safe travel.
I was a little fish in the big pond of photographers, artists and celebrities who were lining up to explore this new technology, but Mac always made me feel like an equal player. I was thrilled to be asked to sign a release for them to feature one of my images on a page in their book "Nash Editions: Photography and the Art of Digital Printing" – a fascinating record of the early days of digital photography, way before all the stuff we take for granted now.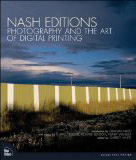 After a 'digital negatives for platinum printing' class with Dan Burkholder at the Santa Fe Workshops, I was on the verge of buying a couple of IRIS printers (they dropped incredibly in price around 1999, but you needed at least one spare machine for parts so you could keep one running) Epson introduced the 9600 with Ultrachrome inks and Hahnemuhle started coating their 310 gsm classic German Etching paper for digital printing. I jumped headlong into learning digital color printing (I mostly printed B&W before this in my darkroom, lab printing of my color transparencies was too expensive) and making paper print editions of many of my friend Kris Nelson's brilliant oil paintings.  The ability to proof-'til-I-dropped let me refine my understanding of the technology and develop my ability to see and reproduce color. I limited myself to matte papers because I never really thought of inkjet as "photo" printing, but rather producing my images as 'works on paper'. This is not a judgement against digital printing, but rather an acknowledgement of the new medium, and an homage to the unique beauty of gelatin silver, platinum, Cibachrome and the classic analog C and R prints from the darkroom.
This digital thing has had quite an influence on my career and the development of my life as an artist. Adopting the technology early (certainly not as early as some – I still feel like I arrived late to the party) was a great opportunity, and the learning curve probably kept me from burning out for years since there was something new to master every day. Yet today, I find myself going backwards – towards a film way of working which actually makes me more comfortable, intentionally working with less-that-cutting-edge tools. Older digital cameras that slow me down, ISO limits more akin to pushed Tri-X that don't tempt me to shoot in rooms with no light, last-century manual lenses with 'character' instead of today's designed-in flaws that need software to correct them. My antique Epson 9600 keeps chugging along and while I'm making my "slow prints" its zen rhythms sound like words in the quiet air of the print studio.
I confess, I hold little romance for returning to film. I'm trapped by digital's immediacy and prefer the pixel-accurate power of the digital darkroom. But I keep trying to create the pace, the anticipation and the wonder that happened when we used to shoot and then wait to see if what we thought we shot was really there. That in-between part – after the exposure when there was no picture yet – was a different kind of not-knowing than today where we wonder if the power will stay on, the drives won't fail, the sun won't spot. And so I'm dusting off the Hasselblad and the Horseman to make some new negatives and a couple of contact prints, just to see how it feels…
I'm not sure I'll ever make prints #4 – 15 of "Honest Cup O' Joe" unless some fabulous demand develops (let's all pray for this to happen, just for fun!). These first three prints hold so much history that even if I do, there will always be, within the complete edition should it happen – this most-valued sub-edition of 3!