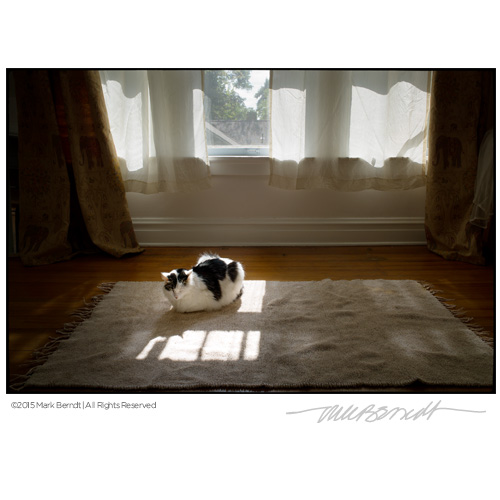 So, I take a little time out today to relax and have just started to browse through the NY Times when I see this – so I run downstairs to grab my camera and hope that Louis doesn't move and a tornado doesn't sweep through and take away the light and that my battery is charged and that the 28mm lens is on one of the bodies and that I don't trip on the stairs coming back up because I'm setting the camera while I'm climbing so I'll be pretty close when I arrive back in the room in case it's a get-it-or-lose-it kind of photo situation (which they mostly are) and so I'm estimating (different from guessing) at ISO 160 and a 1/125th of a second at f/8-and-a-half (that's a little more than "f9" on a DSLR which isn't even a real f/stop to us old-timers) with the focus at about 4 1/2 feet (because I just can't think in meters while I'm running) and then I get there and Louis is still asleep and doesn't even know I left and there isn't a cloud in the sky and my battery is at 89% and I check my meter and I'm only a 1/2-stop off and my trigger finger is itchy and – BOOM – a picture happens!
A picture that perfectly captures the simplicity and serenity and elegance and balance of a peaceful Sunday afternoon in a quiet house with inspiring light and a gentle breeze outside floating the distant whish of passing cars and the promise of Fall that lets one consider taking a little time out to relax and browse through the NY Times.
The camera never lies.

©2015 Mark Berndt | All Rights Reserved